Welcome to the Living Portraits blog
Welcome to the first Living Portraits blog. We're looking forward to sharing highlights of our recent photo shoots as well as showcasing some of our favourite images from the archives and revealing our latest news.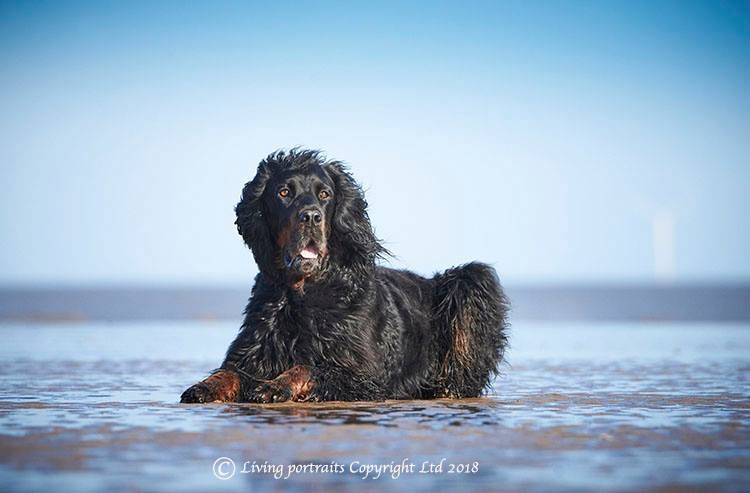 Our recent shoots
We've had some delightful shoots this month – although the weather hasn't always been a delight! – and we'd like to share some images of Brodie, Maverick and Branston shot in locations across the north of England.
The recent plummeting temperatures didn't deter our clients and we enjoyed a fabulous trip to the seaside with Brodie – a beautiful Gordon Setter – and her owners Janie and Skip. Brodie loves playing on this fantastic beach at Skegness close to her home. Although she wisely decided not to swim in the icy waters, she enjoyed paddling and relaxing in the shallows.
Talk about feeling on top of the world! The steady climb with the Peffer family in Kendal was well worth it for the views we enjoyed. Thirteen year old Maverick clearly enjoyed the experience and bounded round like an energetic puppy. We captured some great images and especially loved this shot of an inquisitive Maverick in the foreground with the family slightly out of focus against the backdrop of the stunning scenery.
Even if the weather wasn't on our side – with a sudden hailstorm interrupting our shoot – it didn't deter Branston, this mischievous border terrier. Out in the countryside near Blackburn, he enjoyed retrieving sticks and wasn't going to let a spot of bad weather disturb his modelling opportunity.
Whilst a photo shoot on a snowy day is undoubtedly beautiful, it can be difficult to orchestrate with our fickle British weather. Following a sudden overnight snowfall our shoot with Brittany and her two horses was hastily scheduled early one Sunday morning. Whilst admittedly not very warm for a British winter morning, Brittany's outfit added to the magical feel of the shoot and her chosen image was presented on a hand-stretched artist's canvas.
How do you capture an image of a dog that never sits still? Catch him when he's on the move! We met this bundle of energy on a shoot in the Yorkshire Dales with snow on the ground and a distinct chill in the air. As he never sits still, his owner was concerned that he wouldn't manage to get any suitable shots but she loved this image of him on the move, racing across the frozen ground.
Much as we love winter shoots, it's always heart-warming to see the first signs of Spring. We love this shot of a majestic black Labrador, sitting amongst the first snowdrops of the year. In fact, this image is such a favourite of ours, that it has featured on our Photo Shoot gift vouchers for some time.
Spring Homes and Garden Fair
We will be exhibiting at the Spring Homes and Garden Fair at the beautiful Sudeley Castle in Gloucestershire from April 19th-22nd. If you're visiting the Fair and would like to know more about our photo shoots, please come and see us (we'll be at Stand 40)
To see more of our recent photo shoots please like and follow our Living Portraits Facebook page. If you'd like to know more about booking a photo shoot, please call us on 07908 542 432 or email info@livingportraits.co.uk.