A Dog For All Seasons – Spring
It's been a busy month for the Living Portraits team. As well as a Living Portraits image featuring in a Channel 4 TV programme, we've also launched a Facebook page for our Living Portraits Hampshire franchise and have exhibited at the recent Living North Live event.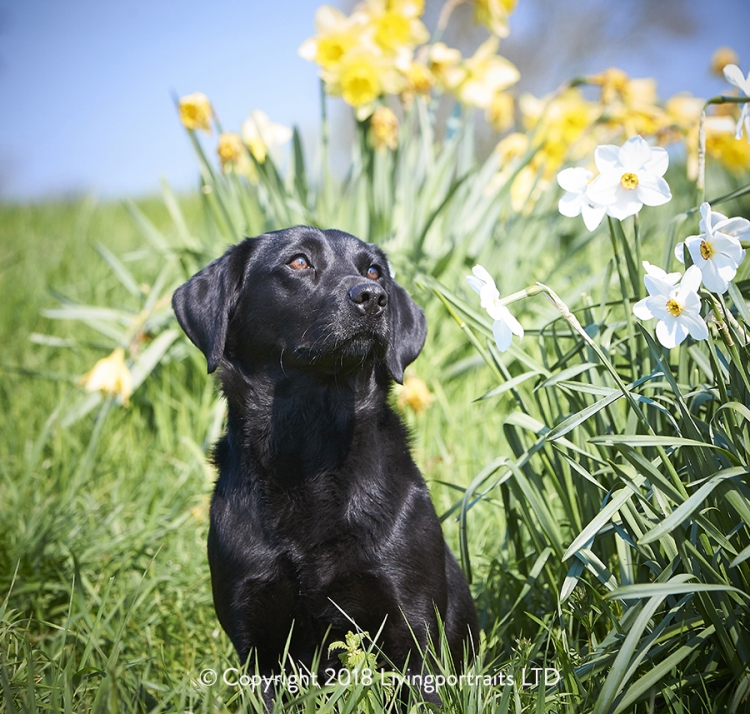 Scruffts
Did you see the final of Scruffts – broadcast on March 16th – on Channel 4? The show, presented by Alan 'Chatty Man' Carr, featured a shortlist of six dogs competing for the title of 'Scruffts, Family Crossbreed Dog of the Year'. The finalists included three-year old Milo, an Anatolian Shepherd/German Shepherd mix – already titled 'Most Handsome Crossbreed Dog' in the show – who was the subject of a recent Living Portraits photo shoot by David Bristow and Paul Simmons of Living Portraits Hampshire. The feature on Milo during the show followed artist Sarah Leigh as she re-imagined one of the shots of Milo taken during the Living Portraits photo shoot.
When Milo came to live with owner Charley Henkey he was a far cry from the healthy, contented dog of the shoot. Thought to have been rescued from the streets of Romania, Milo was severely underfed and neglected. With love and dedication, Charley nurtured him into the handsome dog who was such a pleasure for our photographers to work with.
David and Paul are taking bookings for Dog and Equine portrait sessions for the year ahead. Contact us now for more information or to book a photo shoot.
Living Portraits Hampshire Facebook Page
The striking image of Milo is just one of the recent photo shoots undertaken by our Living Portraits Hampshire team. This month we've launched the Living Portraits Hampshire Facebook page to showcase the work of our two excellent photographers, Paul Simmons and David Bristow. The duo work across southern England and are taking bookings for Spring photo shoots now.
Living North Live Event
Did you see us at the recent Living North Live event? We had a great weekend at the event at York Racecourse with new customers taking advantage of our fantastic offer and booking a photo shoot at the show. It was nice to see some familiar faces too as some old customers stopped by to say hello and update us about their pets.
Spring Homes and Gardens Fair
Spring Photo Shoots
With daffodils bursting into colour and woods carpeted with pretty bluebells, nature provides a stunning backdrop for photo shoots at this time of year. We're now taking bookings for Spring and would advise booking early as this stunning season doesn't last for long.
To see more of our recent photo shoots please like and follow our Living Portraits Facebook page. If you'd like to know more about booking a photo shoot, please call us on 07908 542 432 or email info@livingportraits.co.uk.